I decided about two years ago that I would have a themed and over-the-top Soul Train 30th birthday party. I wanted the party to feel like a moment in time in Black fashion alongside classic music. You all know, I love planning events and the more elaborate, the better. I hesitated on whether or not I actually wanted to In December when we finally starting deciding on details for decor, I realized Soul Train didn't have much to it but I so badly wanted to embody the 70's and 80's, especially during the disco era, without turning the party into one of those corny discos that you'd have at a school dance. Almost immediately, I thought of two of my fashion icons, Cher and Diana Ross in their jaw dropping get-ups arriving at Studio 54.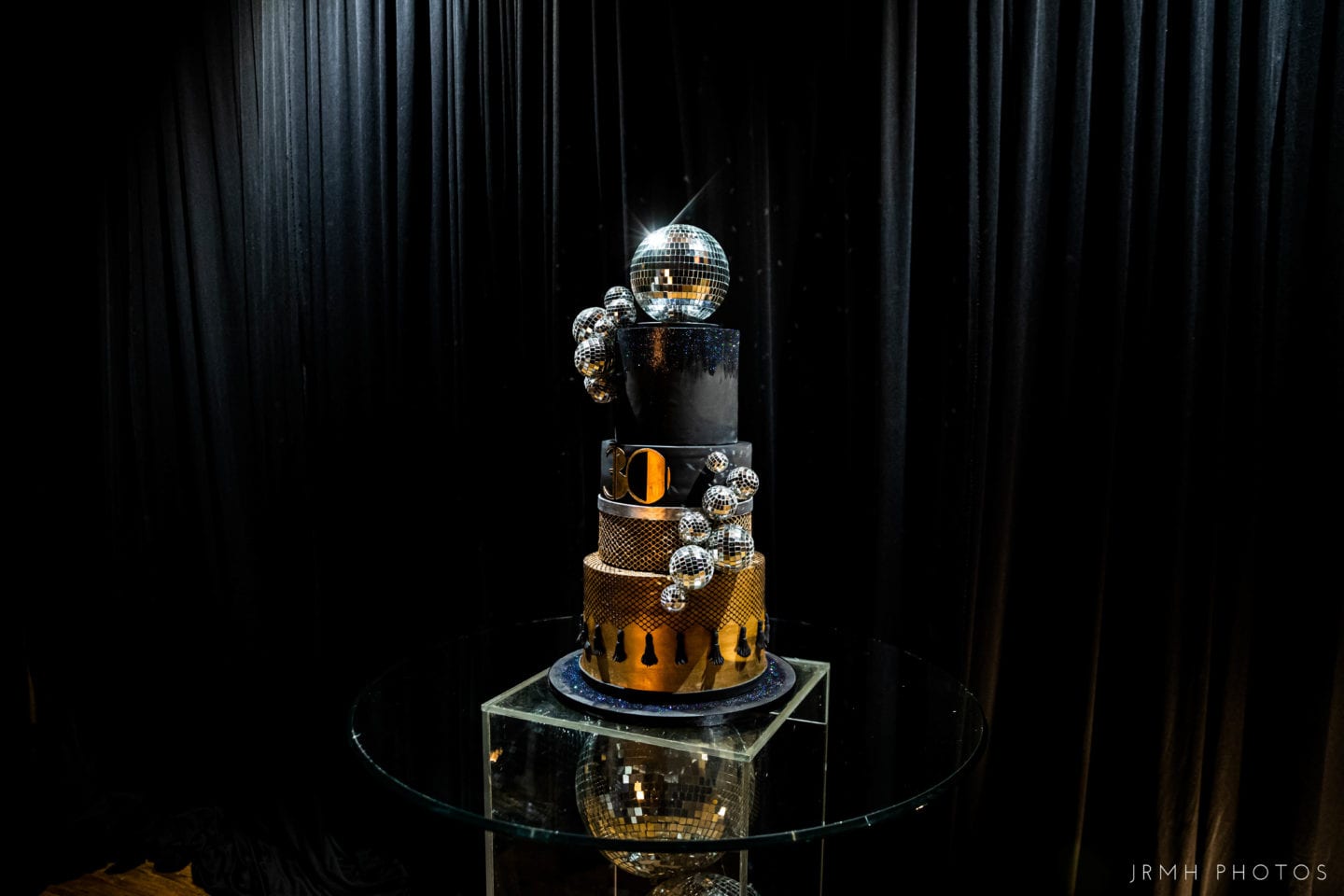 If you're not familiar, Studio 54 was a glamorous and iconic nightclub that many legendary celebrities fancied, i.e. Bianca Jagger, Tina Turner and Elton John. It was a place where drinks and other vices flowed heavily and the party lasted until the sun came up. So Studio 30 it was! I came up with a guest list, created an invitation on Evite and got going on the details. To set the vibe for any major event we have, I start by creating a Playlist to not only help me visualize how I want the party to feel, but to share with guests to get them on board with what they can expect and what type of vibe the party will be. Additionally, because this is a themed party and I want every guest to participate, I also created and Pinterest board with costume ideas to give everyone a little outfit inspo.
When it was time to find a venue, I was pretty unimpressed with the available options. I love unique spaces, (i.e. getting married in a theater lobby) so looking at the typical generic party spaces didn't move me much. Luckily, a good friend of mine that I've known at least a decade recently opened up a gorgeous co-working space called Ranch Office that he allowed me to use to create the perfect space. I had Valerie, owner of @Decor2Remember meet us at the space to give us a better idea of what we'd be able to do. She made our dreams come true at our wedding so I know I can depend on her for our small or extravagant party ideas.
I quickly envisioned what I wanted my birthday looks to be. Cher was the queen of sexy jumpsuits and Diana Ross was the queen of dramatic and elegant pieces. I asked for designer recommendations to create the perfect outfits and was quickly paired with @ChasitySereal. After meeting, I was confident she saw the vision and would make it happen. She sketched my options for each outfit, found the fabric and got to work!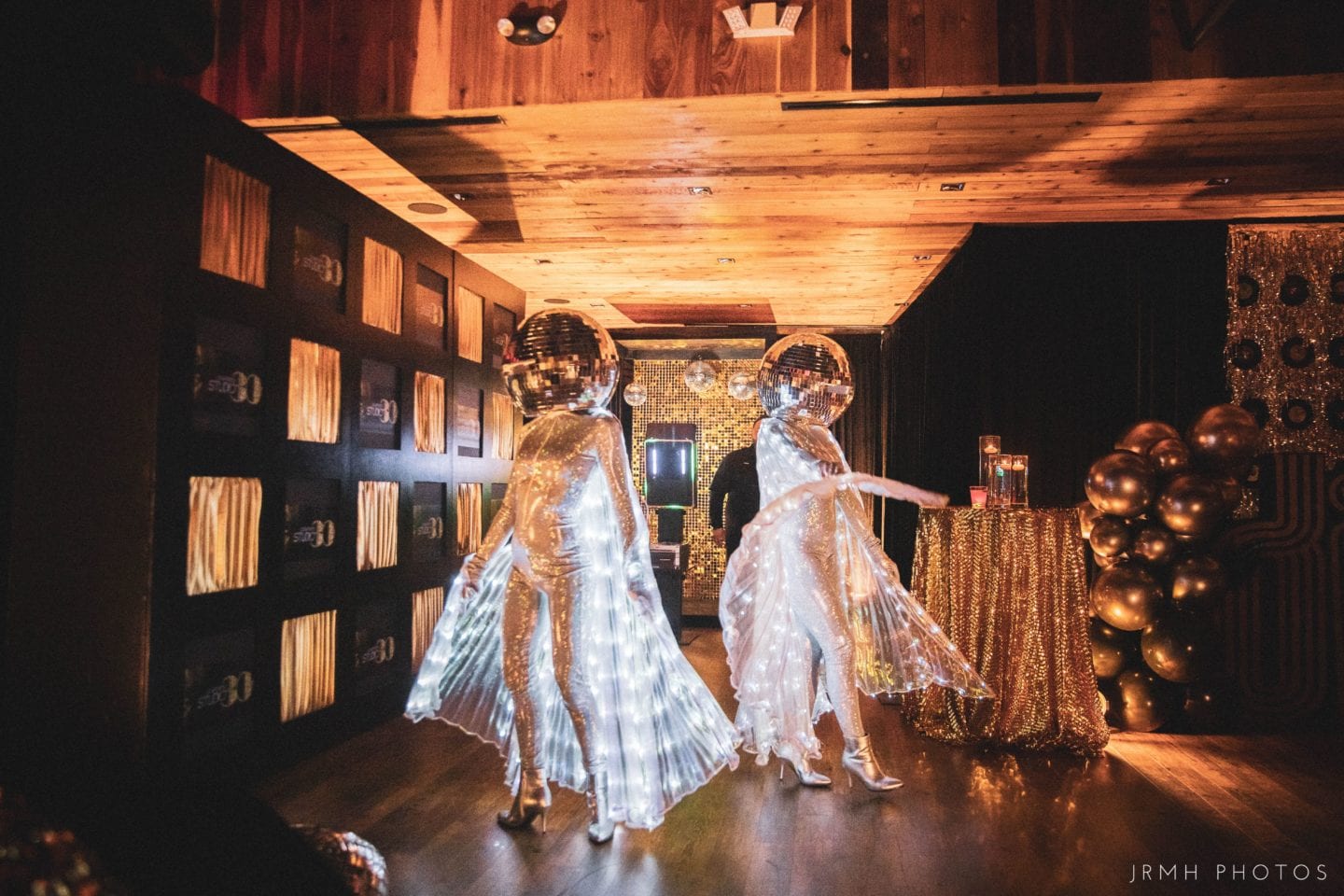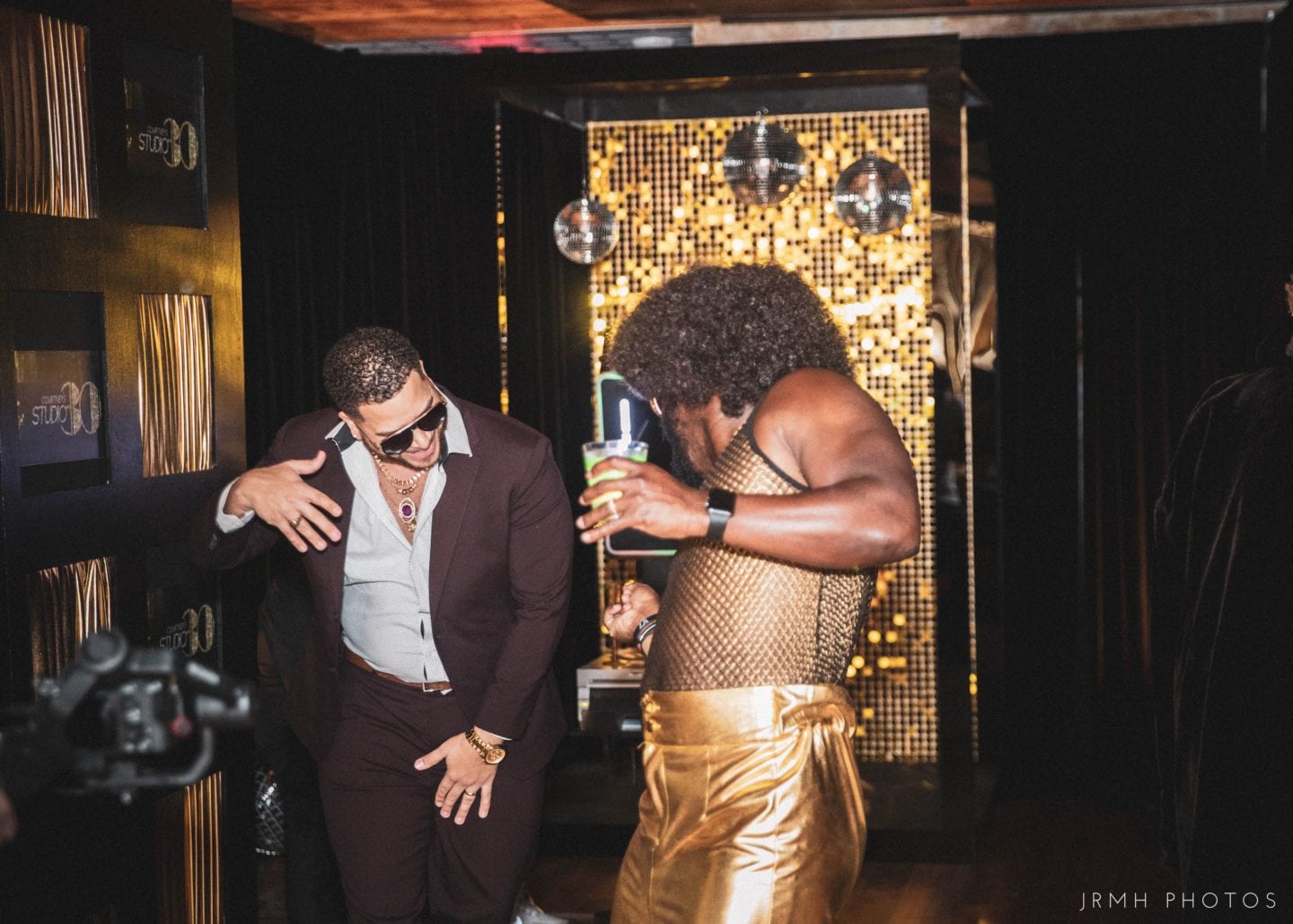 Getting the venue, date and outfits secured were priority. After that, came securing the DJ, photographer & videographer, catering, a bartender, entertainment, and getting the tiny details together for any special items I wanted before the event. Because of what I do for a living, I love to find ways to brand an event with a specific logo or tagline, so I worked with @LolaBearDesigns to design one for me. I used it throughout the party on special cups, the invitation, on the photo booth and drink wall, and even the dance floor.
The day of, everything came together seamlessly and was entirely on theme. As guests started to arrive all dressed up it was apparent we'd have the best time. For the first two hours we danced entirely to the best of the 70's and 80's and I was so surprised how much everyone was into it. We had a soul train line and so many laughs (and shots) together. Because this birthday was a milestone for me, I knew without a doubt that I wanted to leave no detail untouched, but there certainly could've been costs that I cut. If you're party planning on a budget focus on your guest list and ensure who you're inviting are people that will make a good time, a great one. Next, make sure you have a bar because drinks certainly keep the party going. Lastly, music! Whether you hire a DJ, or curate a playlist to shuffle throughout the night, music can easily make or break a party.
Vendors I Highly Recommend
Decor (@decor2remember) | Balloon Garland (@poshpopballoons) | Photographer @JRMHPhotos | DJ @dj_ftg | Cake @GoodGoshGanache | Go Go Dancers @JandDEntertainment | Marquis Letters @luvlettershtx | Bartender @Ditragos | Custom Cookies @TreatsByBec | Customized Menus and Party Items @LolaBearDesigns | Catering @theelitepalattehtx
Party Checklist:
Playlist
Curate a playlist for your guest to get them into the groove of what kind of evening they'll be in for. It helps familiarize them with songs they made hear, or even serves as their get ready music.
Venue and Date
Decide where your party is going to be held and secure the date. I've seen so many parties cancel abruptly and not happen at all because of complications with not securing a venue space. Don't assume things won't book up! Take care of this before any other major details or you'll be scrambling trying to find an alternative.
Invites
Whether you have formal invites being designed and mailed out, or a digital invite that's being circulated via email, you'll need to jump on this pretty early on in order to make sure people put it on their calendars before they make other plans and can't attend. My go-to for digital invites is Evites, PaperlessPost or Hobnob.
Decor
When I decide on a theme, I visualize it in my head more than anything. If seeing examples of things in front of you is what you need to pull things together, the Internet is your best friend. Get on Google and type in your theme, or decor ideas you're interested in, i.e. "wine colored floral arrangements". I also suggest making Pinterest boards to help pull the details you like best together all in one place.
DJ
I highly recommend in a DJ,whether it's an old family friend you trust or a DJ you know will keep the party going. Music will easily make or break a party and for mine, keeping people dancing is a PRIORITY to keeping them having fun. If people are off of the dance floor, the closer they are to leaving.
Catering and Bar
Are you going to be preparing all of the food yourself? If so, make a detailed shopping list of EVERY item you'll need for your trip to the store. Are you purchasing all of your own liquor beforehand, are will you hire a bar service? If you want to save money, you can always ask guests to bring their drink of choice. Food options can range from a few buffet style appetizers, to passed h'ors devours or fully plated meals.
Cake or Desserts
If you decide you want a cake, determine what you want it to look like, or find a vendor that can provide you with ideas. Keep in mind, big glamorous cakes need to be cut and served, so that may not be a task you want to take on as a host. Other fun desserts are cupcake towers, macaroons, bundtini's, chocolate covered treats, custom cookies or iced rice krispy treats.
Personalized Items
What items are you going to personalize to make your party unique? They could be as small as branded candles, napkins, stirrers, or straws or as big as custom neon sign or dance floor. The tiny details that let guests know you really took the time to think about it.
Party Favors
Are you sending your guests home with anything to remember the evening? If so, figure out what that is and personalize it. For my sister's baby shower, we did succulents. For my birthday, we had light up disco ball cups as well as portable ballet flats for the ladies.
Entertainment
Entertainment is certainly not necessary but can easily be a 'WOW' factor at your party. I knew I wanted Go Go dancers on both sides of the dance floor so people knew where to direct their attention to. But entertainment can easily be live music, someone on stilts, jugglers at a kids party, the list goes on.
Click here to watch my Studio 30 highlight video!
I don't need to have another party for the rest of my life! LOL this one tops it all. I hope this post helps walk you through my party planning process, but if I left anything out please feel free to comment below!